If I ask what words come to your mind when I say "Café Racer" I'm ready to bet my two cents that Triumph is one of them. For this reason, the Café Racer Webshop blog will dedicate a series of articles on this legendary brand.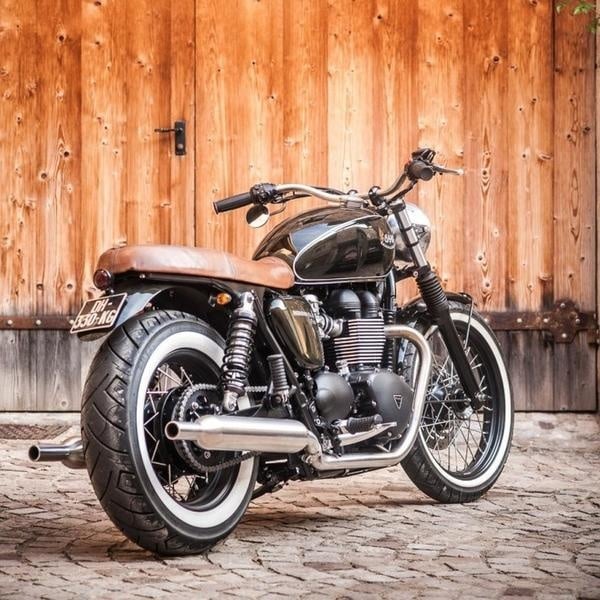 It's quite obvious that we would start this series with the Triumph Bonneville. Named after the Bonneville salt desert in Utah where Johnny Allen set the world record in 1956 with a modified T110 650. The Parallel Twin is one of the signature elements of the Bonneville. The production started in 1959, meaning this year is the 60th birthday of the Bonnie.
There are 3 generations of Bonneville, the 1st one from 1959 – 1983. The second-generation 1985-1988, and the third-generation from 2001 onward.
Very few motorcycle's models are as iconic as the Triumph Bonneville. It has been brought in the popular culture by countless people, just to name a few Steve McQueen, Bob Dylan, and Marlon Brando were Bonnie's riders.
Of course, it's not because a few celebrities used it that the Bonnie breached the heart of motorcycle lovers. But more because the Bonneville has a history of performance, its aesthetic lines are charming, and more simply because it's a really nice motorcycle to ride! It captures a certain nostalgic feeling and everyone thought about buying one of these beasts!
The style of the Bonneville is unique. It automatically appeals to us and makes us dream of long drives along bucolic roads. Triumph knows that the lines of the Bonneville are too characteristic to be modified. As you can see the overall allure never changed, here a first-generation model next to a third one. Some of the features from the 59' are still present in the latest model!
Speaking of aesthetic, the Bonneville is appreciated by the Café Racer amateurs for good reasons. It has been the base of countless projects. The Triton, Bonneville engine with the featherbed Norton frame, is still a popular machine nowadays!
The last generation of Bonnies called the modern classic offers a large range of option. Here a list of the available versions (retrieved from Wikipedia):
• Bonneville T120 Water Cooled 1200 cc: Introduced 2016. Flagship bike.
• Bonneville T100 Water Cooled 900 cc: Introduced 2017. Bonneville with fewer standard options.
• ThruxtonWater Cooled 1200 cc: Introduced 2016. Cafe Racer.
• Thruxton Air Cooled 865 cc: Introduced 2016. Cafe Racer with pre-2017 Bonneville T100 Engine.
• Bobber 1200 cc: Introduced 2017. Bobber with T120 Engine, Single-seat.
• ScramblerAir Cooled 865 cc: Introduced 2016. Scrambler.
• Street Twin Water Cooled 900 cc: Introduced 2016. Entry Level Bonneville-Styled Bike with high torque engine.
• Street Cup Water Cooled 900 cc: Introduced 2016. Entry Level Cafe Racer.
• Street Scrambler Water Cooled 900 cc: Introduced 2016. Scrambler version of the Street Twin.
• Speedmaster: Introduced 2018, based on the Water Cooled 1200cc Bonneville engine and frame, with forward foot controls
The "classic modern" T100
The modern classic models are quite versatile when it comes to modification. New suspensions, cool mufflers, polished fenders, stylish seats etc… There is a wide range of parts is available on the Café Racer Webshop to let you express your creativity. And if you're lacking inspiration, here a selection of beautiful Bonneville Café Racer style:
To conclude, the Triumph Bonneville is a motorcycle that can't leave you indifferent. If you are looking for a bike that you can custom, love, cherish or just a cool bike to ride, you cannot go wrong with the Bonneville.
In the next article, we are going to talk more about the different model Triumph offers, starting with the Thruxton and the Scrambler models.